Welcome to the Fastest Growing Tools Sales Network Worldwide
We Build Strong Relationships Around Greece
Our high quality raw materials combined with the cutting edge production technology implemented in the best factories worldwide, established our Brands as the top-performing tools both for DIY & Professional Users
The hand tools Leader
Fournarakis S.A.is a well-known and fast-growing tools supplier with extensive experience in the tools industry and deep knowledge of tools design and construction. Today it has developed into a very powerful group of brands.
Fournarakis S.A. guarantees the highest quality products at the best possible value
We design, develop, manufacture and test our tools on the basis of thorough market research to ensure they meet our customers' needs and professional demands.
With a wide range of hand tools and accessories, power-tools accessories, garden tools, farming tools, paint tools and sprays, adhesives, locks and padlocks, work safety gloves and shoes and many more items in the field of tools hardware, we have been identified as a preeminent tool supplier to both DIY users and professional craftsmen worldwide.
The History of 3 Generations
O
ver the past 65 years we have evolved, from a family business, focused primarily on the production of iron casting and smithing products, into a Group of Brands, that benefits from the in-depth knowledge accumulated over all those years, enriched by a commitment to implementing cutting-edge technologies and a passion for design.
FOURNARAKIS S.A. in its current form, was founded by Michael Fournarakis and Julia Fournarakis 40 years ago.
Since 2000, the three sons of the family, each in their own role, continue growing and evolving the family business with the help of trusted and competent staff.
Today the comany employs 100+ people, cooperates with 230 suppliers and serves 3.000 trade professionals of the tool, paint and hardware industry.
Lately, we have successfully focused in the export sector, due to the wide range of private label products we have developed.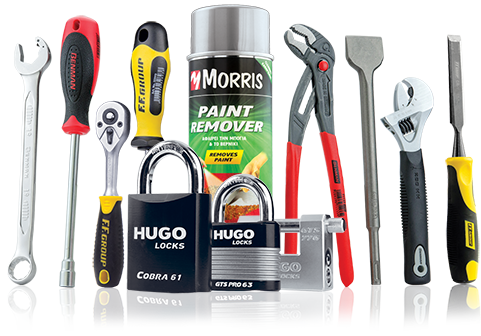 Our Mission
Satisfying our customers' requirements and simplifying their daily work
Accessing new markets and customers
Improving all our business areas
Becoming our partners' best supplier and our customers' favorite group of brands
Fast Growing Global Network
Our products are sold in many countries around the world and we are expanding our sales network by adding an increasing number of satisfied customers
O
ur products are sold & distributed through our global sales network around the world. We export to Europe, the Balkans, the Middle East, the North African countries and the USA.
Every day we provide the best value and quality to our customers, whilst we build strong relationships in all the markets we serve.
Solutions for every Market
We have the long-term goal of getting to the forefront
of the tool industry by developing a global network that
distributes superior performance and durable tools in a
wide range and at competitive prices
Our Clients Are:
Technical Equipment Stores
Paint Stores
Hardware Stores
Garden & Farming Tools Stores
We Manufacture
We are always developing tools
with the users' requirements in mind

FOURNARAKIS S.A. brands are produced in the most reliable factories and are subject to meticulous quality controls.
We design from scratch, develop and manufacture
exclusively using our own moulds.
These advanced manufacturing processes, carried out using
the very best raw materials, deliver a perfect result every time.
Utilizing the highest international standards in all production levels
together with modern facilities, state-of-the-art technological equipment and highly trained
technicians,our manufacturing processes guaranteea top-quality final product
Seeking Perfection
FOURNARAKIS S.A. brands are made using the latest and most advanced software-controlled manufacturing processes, ensuring the optimal thermal, mechanical and surface processing of the raw materials.
Our Top Quality Tools Manufactured in Top Factory Plants:
Germany
Austria
England
Italy
Holland
Unique Eye-catching Appearance
Our design strategy manifests itself both in the creation of new product lines and in the further development of our existing product range
Exceeding market standards in terms of design and differentiation, our goal is to develop new lines of unique ergonomic tools while continuing to improve our current products as new technologies become available.
The main focus of our packaging designs is to highlight each product's
unique characteristics, helping the end-user
to identify the appropriate tool for his needs
quickly & easily
ISO CERTIFICATION
Improvement and perfection of the entire company's processes as well as a quality management system is our organization's main concern and we want this to be reflected in all areas of our work especially in our organization and structure as well as in all contacts between our employees and customers.
Production processes and control are certified
in accordance to ISO 9001:2015 standards